Can I use your office address to send my package to?
Introducing Blackship ー a revolutionary new package forwarding service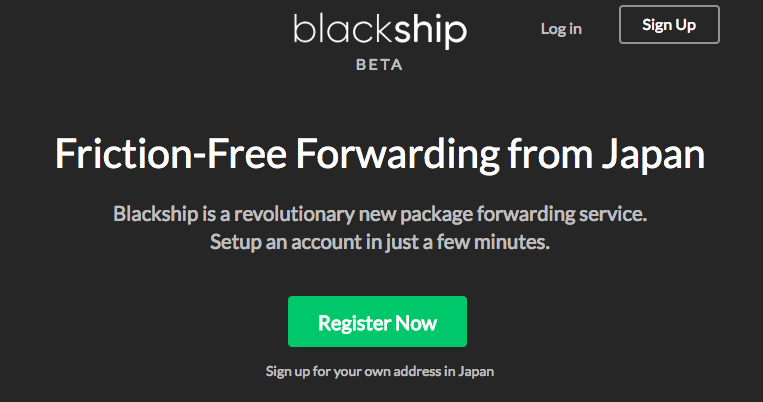 Visit Blackship.com, our sister service for Package Forwarding. This service is perfect for customers who can navigate and pay for items at Japanese stores on their own but just require a Japanese address. Blackship provides an address to send your packages to in Japan and then arranges shipping to you overseas.
Blackship and White Rabbit Express are two separate services, you do not need to sign up for both unless you require both Proxy Buying and Forwarding.
Need help with a purchase instead?
White Rabbit Express personal shopping assistants can purchase items on your behalf. Get started at  White Rabbit Express!
---
Frequently Asked Questions
What is Package Forwarding?
Package forwarding is a service which accepts packages on your behalf and then forwards them to your address overseas. Blackship specialises in receiving packages from Japan only, they cannot be used to receive items from outside Japan. Customers are required to create accounts, place orders, pay and speak with stores on their own, Blackship just assists with shipping the item from Japan to you.
If you need assistance with creating an account, placing an order or payment then you should use  White Rabbit Express instead.
What Methods of Payment Do You Accept ?
Blackship accepts the same payment methods as White Rabbit Express. Payments can be made by Paypal, Visa, MasterCard, American Express and Discover via our secure payment gateway.
Can you consolidate several packages and ship them together ?
Yes, Blackship can hold your packages (for up to 30 days) until multiple boxes arrive and ship them together. Consolidating multiple packages reduces the total weight, so you may save on actual shipping costs. However, unlike White Rabbit Express, Blackship charges a fee for consolidating packages together.
---
Rules & Restrictions
No Cash on Delivery
Blackship does not accept Cash on Delivery (COD). When checking out from a shopping site, be sure you pay in advance by credit card and do not select "cash on delivery" or some other pay later option. Use our  Proxy Buying Service White Rabbit Express instead if you need help completing the payment.
Package Size and Weight Limitations
Ensure the total weight and size of your package will not exceed the limit permitted for your country. Any item exceeding the limits of Japan Post will ship by Fedex only. 
---
Import/Export Restrictions
When using Blackship it is your responsibility to ensure that there are no laws or provisions against shipping your package from Japan to your country. We cannot accept any responsibility for a package which is rejected by Japan Post or by your local Customs authority.
Review these guidelines governing restricted items. Please contact Blackship at help@blackship.com if you have additional questions or concerns about shipping something from Japan.
We have listed some local customs website you can check for more details regarding importing, if your country is not listed below please search for your local customs authorities web page online.
USA:  https://www.cbp.gov/
Canada:  http://cbsa-asfc.gc.ca/
Australia:  http://customs.gov.au/
New Zealand:  http://www.customs.govt.nz/
China:  http://www.customs.gov.cn/
Hong Kong:  http://www.customs.gov.hk/
Korea:  http://english.customs.go.kr/
Singapore:  http://www.customs.gov.sg/
Taiwan:  http://eweb.customs.gov.tw/mp.asp?mp=21
---
---